In the Cause of Professional Service
Beginnings
McCormack + Etten / Architects™, LLP, was founded in 1992 by Ronald H. McCormack and Kenneth L. Etten as a partnership for the practice of architecture, combining a wealth of diverse architectural experience and talent.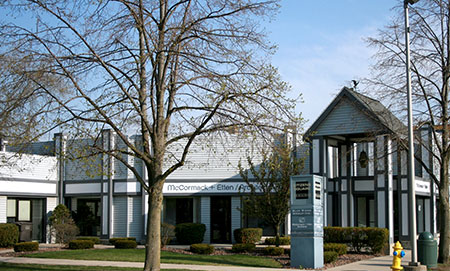 Our Philosophy
From the beginning, McCormack and Etten set out to offer a small scaled professional office; one that would maintain a high level of personal service for its clientele. We are a "hands-on" firm, structured to allow the close, personal attention of the partners that our clients deserve. Growth of the firm is carefully managed, accepting only work that is consistent with our goals and that allows our personal attention to be maintained.
By staying small and lean, M+E is able to offer a competitive fee structure, without the costly overhead and waste of larger firms. Our talented and experienced staff make extensive use of computer-aided drafting and design. Our investment in state of the art equipment and sophisticated business management techniques all contribute to savings that are passed on to our clientele.
A Design Firm
McCormack + Etten / Architects™, LLP, is a design firm, meaning that we are committed to the concept that good design is the product of creativity, hard work, good taste and appropriateness to the client's needs, philosophy, and budget. Each project is approached objectively, its parameters carefully analyzed, and solutions are rendered that are a statement of the client's individuality. McCormack + Etten are well known for their skillful, creative design work in a variety of project types.
Equally important is technical competence. McCormack + Etten is a down-to earth, "nuts and bolts" firm, ever mindful of the realities of the construction process. We are meticulous in the preparation of construction drawings and specifications, and there is no substitute for the years of practical experience that go into our product. The bottom line for our clients is a well designed, efficient structure, bid competitively, and built in a well structured, professional construction environment.
Services Offered
McCormack + Etten / Architects™, LLP, offers the full range of traditional architectural services to its clientele, and will tailor and expand those services as needed for a particular project. M+E is supported by a full range of professional consultants including structural, civil, plumbing, mechanical, and electrical engineers, landscape architects, interior designers, food service designers, acoustic consultants, and cost estimators. Over the years, we have developed close working relationships with these consultants, and can depend on them for timely, professional service.
Experienced Professionals

A diverse background has instilled in McCormack + Etten a strong creative design sense, extensive technical knowledge, a business acumen, and in short, a clear understanding of the architect's role in the construction industry. In working with private clients, developers, builders, church and school boards, large corporations and small businesses, it is clear that all have in common the need for timely, professional service, responsibility for budget constraints, design innovation and thoughtful, practical solutions to their needs.
McCormack + Etten is proud of its record in responding to the needs of its clients, and would be pleased to furnish a list of client references on request.
We look forward to the opportunity to share our expertise, to provide our personal brand of service and, simply, to prove ourselves worthy of your confidence in us.
Awards
Houzz Influencer

- This professional's knowledge and advice is highly valued by the Houzz community. Awarded on August 21, 2015

Recommended on Houzz

- The Houzz Community recommends this professional. Awarded on August 21, 2015

50,000 Ideabook Saves

- This professional's photos have been added more than 50,000 times to ideabooks on Houzz. Awarded on October 16, 2016
M+E is proud to be featured in:
Available now at major booksellers including
Amazon, Borders, Barnes & Noble.


Press and Media
McCormack + Etten / Architects™ Celebrates 25 Year Anniversary

Located in Lake Geneva, Wisconsin in its 25th year, McCormack + Etten / Architects™ is a nationally recognized design firm combining a wealth of diverse architectural experience and talent spanning over four decades.

M+E is a boutique firm known by its clientele for their high level of personal service and attention to their needs.  The result: the firm's client list is a Who's Who of regional executives and celebrities. 

M+E is known for their uncompromising creative design work, particularly for lakefront and golf course properties.  The firm specializes in estate, vacation, and urban homes and enjoys working in a variety of architectural styles.

---

At The Lake - Geneva Lakes Area Magazine
Winter 2010 Issue - Features - Profile: Ken Etten By Lisa Schmelz
Meet architect Ken Etten, who is passionate about his mission to preserve Lake Geneva's history and built-heritage for future generations
www.atthelakemagazine.com

Residential Design & Build Magazine
(Video) Interviews with Ron McCormack:
Partnering for profits -For design firms, builders and Realtors can be your best friends
Construction drawings matter - The effect good construction documents has is far-reaching.
Marketing to past clients - Referrals are the lifeblood of any business that wants to survive in this economy
Crossing state lines - Designing custom homes in mulitple states has its challenges and benefits
Staff Directory