NEWS FLASH!!!!
October, 2014
McCormack + Etten Architects is pleased to announce a major new investment in our future! This month we are replacing all of our "slightly" antiquated computers and upgrading our Autocad CAD software to Autocad's Revit Architecture 2015.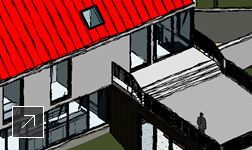 Revit is state of the art cutting edge technology for design, drafting and graphic presentation for multiple disciplines. For architecture, it means working in full 3D spacial mode with floor and wall planes, roof components, and building objects, rather than 2D linework.
Revit is a vertically-integrated program that allows instant updates to all drawings and documentation in a drawing set when a change is made. 3D model views are developed simultaneously with plan work, enabling better visualization and communication of ideas with our clients.
BIM, or Building Information Modeling, is a major feature of Revit, in which drawing files may contain proprietary information about building materials, functions and features, which can be shared with other disciplines and contractors for greater speed, accuracy, and coordination of the building process.
To our clients, this investment will mean faster and more efficient service with far greater visualization capabilities. M+E will never stray from its primary mission of delivering creative, quality design and great service to its clients. Our new Revit software will further that mission with a great new tool. We also think it will be a lot more fun! Stay tuned.......